We're on a mission.
For months now, we have been searching for the best cookie dough milkshake. It started after devouring a cookie dough milkshake at a new place in Rexburg, Idaho called SodaVine. It was delicious! Since then, we've come back to Utah and have been craving that milkshake…but since we can't drive 4 1/2 hours each time we want one, we set out to find the best cookie dough milkshake closer to home. With all the restaurants around here, there has to be one that is as good, right?
Well, it hasn't been as easy as we expected it to be. So far we've tried a bunch different shakes and still haven't found one that is quite as good…though we have come close. So I thought we'd give a rundown of each of the ones we've tried, as a kind of "research" project. 🙂
So, without further ado, here is the lineup:
1. SodaVine, Rexburg Idaho
Where it all started: SodaVine. Its a new place, and full disclosure: is owned and run by my parents. But we are being completely honest here and only going by taste and experience – it was great! The ice cream flavor and texture was fantastic! We asked and learned that they use Reed's Dairy ice cream – delicious. And the cookie dough was a winner! There was just the right amount of cookie dough chunks in the shake, and the cookie dough tasted great too.
---
2. Leatherby's, Draper Utah
This was the christening of "Weakness Wednesday". We were craving a cookie dough milkshake, so wen't with our parents to Leatherby's to see if they would have a cookie dough milkshake that made the cut. They have great ice cream and great hot fudge, so they were bound to have a good cookie dough shake, right? Since they didn't have a cookie dough shake on the menu, and our waiter was impressed with our mission, he said he would have one made. They used their cookie dough peanut butter ice cream, and we were quite impressed! This is the second best milkshake we've had so far, second only to the SodaVine milkshake.
---
3. Straws, Midvale Utah
Love it! Top five for sure.
---
4. Santa Queen, Santaquin Utah
Really quite good! My wife loves it. For me, its definitely one of the best we've tried. We have been back several times.
---
5. Iceburg, Draper Utah
Iceburg has been a go-to place for Corinne for a long time. Its just a classic-shake type of place. We were quite impressed with the look of the shake, and it was huge, but as far as taste it was just so-so. The cookie dough flavor was really lacking, and no chunks! It was all ground up. The ice cream was really tasty and really thick. Corinne liked the thickness of the ice cream, but it was a bit too thick for me.
---
6. Arctic Circle, Draper Utah
We were about to buy a milkshake at a not-to-be-named restaurant, but my dad insisted that we not go there. If we were going to go there, we might as well go to someplace similar but with good milkshakes, and he recommended Arctic Circle. Thats an all-around good place, right? Well we were pleasantly surprised by their cookie dough milkshake. This was the first, the first, place to actually have enough cookie dough in the cookie dough to ice cream ratio. We had cookie dough in every bite! The cookie dough was not quite as real-deal as we like, but pretty good, and the ice cream was pretty good too. Just the right consistency. Well done Arctic Circle – a solid performance of good taste, good consistency, and the right amount of cookie dough.
---
7. Glade's Drive In, Spanish Fork Utah
Glade's is one of those classic drive-in burger and fries places that has been around since the good ol' days. My dad loves the place and is especially fond of their fries and fry sauce.
We took our whole family there and we ordered – you guessed it – a cookie dough milkshake. Good consistency, decent cookie dough, but the ice cream wasn't that great. It was pretty good, and a nice place to go overall, but the cookie dough milkshake wasn't something we'd drive a long way for.
---
8. Mille's Burgers, Sugarhouse Utah
A bit better than a typical burger joint milkshake.
---
9. Dairy Keen, Heber Utah
Typical burger joint milkshake. Throw it in the box with all the others.
Disappointing. Not great. The ice cream was pretty good, the cookie dough was not
We have a good audio recording of us trying it.
A bit better than Granny's.
---
10. Granny's Drive In, Heber Utah
Such a let down! We made a recording of us tasting it for the first time and I'll add more details soon.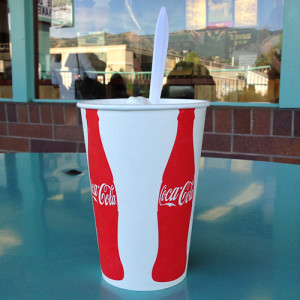 ---
11. Pace's Dairy Ann, Woods Cross Utah
Such a let down. Typical burger joint milkshake…but even a bit worse
Fairly good, but not great. Didn't even want to finish.
---
12. Purple Turtle, Pleasant Grove Utah
Decent, not impressive. Typical burger joint milkshake. Okay, but on the lower of the okays.
---
13. Sammy's Cafe, Provo Utah
Sammy's Cafe has been a solid place in Provo for many years, famous for its pie shakes and hamburgers – so we were excited to go. The cafe has a cool atmosphere – polaroids on the walls, visitors have signed the walls and ceilings, cool decor.
The cookie dough milkshake we ordered really shined by way of cookie dough – big chunks of tasty cookie-dough goodness – but after that, the lights went dim. The ice cream seemed like a failed attempt at custard – the flavor was odd, the texture was a bit icy. Then the shake was only mixed about 2/3 down. They employee that made our shake explained that the blender machine didn't have fixture long enough to reach the bottom of the shake – so it was just solid ice cream for the final 1/3.
Cool place, but we won't be going back for their cookie dough milkshake.
---
14. Coldstone, Draper Utah
Frankly, we were a little nervous to get a milkshake at Coldstone because its one of our favorite places. We go there often and always order their cake batter ice cream with Oreo. Its amazing. Once of the few things we really missed while we were in Italy. We just didn't want to have anything compete with our favorite ice cream.
Well, we don't have to worry. The cookie dough milkshake was nothing to write home about. The cookie dough was not that great, and the ice cream (we chose sweet cream) didn't really match…its not the classic vanilla ice cream flavor that needs to be in a milkshake.
---
15. Baskin Robbins, Sandy Utah
Baskin Robbins has been a classic, dependable place for ice cream for a long time. They deliver quite well on solid ice cream. But after giving their cookie dough milkshake a go, we learned its probably best to keep the ice cream "shake-less". It just wasn't that great. Now we both agreed that the cookie dough was good, and the mini-chocolate chips were better than we expected, but the shake was far too milk-ey, and the taste of the ice cream was a bit bland. So overall, it was just decent. The workers were nice though. 🙂
---
16. JCW's, South Jordan Utah
Corinne's friend heard about our quest and brought her a milkshake during volleyball practice (some place to eat a milkshake, right!?). Corinne's verdict? Good ice cream, but the cookie dough was too small and the cookie dough taste was disappointing.
---
17. Sonic, Sandy Utah
We thought Sonic would be a hit, but we weren't impressed. No chunks and a very artificial taste. I think they just poured in cookie dough flavoring instead of using real cookie dough. Bleh.