You know it happens, but has it happened to you? You show up at the airport, and your luggage is gone. Missing. Stolen? Broken? Still on the airplane?
This is a quick story about my lost luggage after my Ryanair flight. I'll explain how it was handled by Ryanair staff and the process of receiving a reimbursement for the items I bought to get by until my bag arrived. Then I'll list 2 important steps to follow if your luggage is delayed or lost from a Ryanair flight.
(To skip the story and jump to the section: "2 steps: What to do when your luggage is lost on a Ryanair flight", click here)
On 3 February I flew from Milan, Italy to London, UK.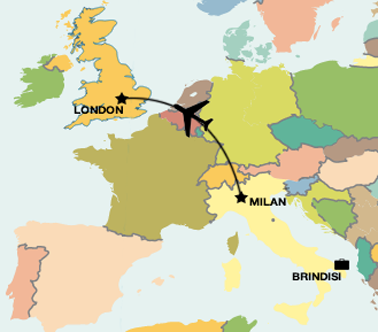 I arrived in Stansted Airport and couldn't find my bag at the baggage claim area. I waited and waited, but it never showed up. I walked over to what I thought was the Ryanair lost luggage desk, but quickly found out I was at the wrong desk when the worker not-so-kindly told me I was in the wrong place. I located the Ryanair lost luggage desk, and told the lady at the counter, named Teresa, that my bag seemed to be missing.
First, she apologized for actions of the angry worker from the other desk, expressed her concern for my lost luggage, and I handed her my boarding ticket with my luggage sticker.
After checking the details on the luggage sticker and in the computer, she told me that unfortunately, the employee at the check-in counter in Milan had mis-tagged my bag, and it had been sent to Brindisi (a city on the southern tip of Italy). She told me that most likely, the bag wouldn't make it back until the next day, she apologized for the trouble I was sure to have since I'd be without luggage for a whole day, and asked me about my situation and to describe the bag (so they could be sure to identify it). She then immediately logged the details into the tracking system called World Tracer – which allows them to track the location of luggage, and sent an email to the staff in Brindisi.
She filled out a form and explained the process of returning my bag to me. The staff in Brindisi would place my bag on the next flight to London, it would arrive in the evening, and then it would be sent by courier directly to my hotel. Unfortunately the daily courier would have already come and gone by the time my bag arrived, so it would be sent out the next day. She asked for my contact information and told me she would keep me updated by email as soon as she heard any updates on the location of my bag, and that the courier would call me when he was on his way with my bag.
I asked:
"If I buy a toothbrush and razor and things, will I be reimbursed?"
She said:
"If you have travel insurance through your credit card, you may be able to receive a reimbursement from them. Otherwise you can submit a claim to Ryanair, and in most cases, you can get reimburesed, as long as its for essential items like toiletries, etc."
She then explained how to request the reimbursement online, and handed me the form she had filled out and highlighted a few numbers to make note of. She said she was sorry about my bag, and I was on my way.
I received an email from Teresa that evening apologizing once again for the trouble of my lost bag and to let me know my bag had arrived at the airport and would be delivered the next day. That evening, I purchased some hair gel, a toothbrush, toothpaste, and deodorant and made sure to keep my receipts.
The next day, I wore the same clothes which were rather casual, unfortunately. I had a few important business meetings, but those I was meeting with understood. In the afternoon, I called the courier to ask about my bag and was told it would be delivered between 3pm and 6pm. I returned to my hotel that evening and found my bag, safe and sound, at the hotel check-in desk. I had also received an email from Teresa asking me whether my luggage had arrived. I thought that was very kind of her.
The day after I returned to Milan, I went about requesting a reimbursement for the purchase of my essentials. I went to this page, and with the information on the paper that Teresa gave me, I filled out the form. This is what that form looked like:





Just an hour later, I received an email from Ryanair Customer Support informing me that they had received my request, reviewed the information and approved it, and would be sending me a check to cover those costs.
It was definitely a pain to be without my luggage, wear the same clothes, etc. but I'd say the whole process was quite smooth and handled very well by the customer care team at Ryanair.
2 steps: What to do when your luggage is lost on a Ryanair flight
Has your luggage been lost of delayed after your Ryanair flight? If so, be sure to follow these 2 steps:
STEP #1: Go to the Ryanair lost luggage desk before you leave the airport and report your delayed/lost luggage. You'll need the form they will give you, and reporting the issue at the airport is the most important part. In most cases you cannot report the issue later. You need to do it at the airport.
STEP #2: Submit your reimbursement request here: Ryanair: Loss/Delayed Checked Baggage (Submit within 7 days for lost luggage. Within 21 days for delayed luggage)
Will you receive a reimbursement for everything you buy? Not necessarily. While you can receive compensation for lost/delayed luggage, (read here for more info), the amount varies depending on what was in your bag, the circumstances of the loss or delay, etc. It seems to be up to the airline to decide what is an "essential cost". (Be sure to read the disclaimer here.) I doubt that new clothes, new luggage, etc, will count as "essential" in the case of delayed luggage. Its up to the airline to make a decision on what they will reimburse you for on a case-by-case basis. My advice is to just buy what you need and don't abuse the system.