I've been aware of Squarespace for quite some time. I've been intrigued enough that they've stayed on my radar. I usually build sites with WordPress, and I think it's a great platform, but I was open to give Squarespace a shot if it seemed like the right fit for a project.
A good friend of mine wanted to launch a site for he and his father's law practice and asked me to help out. We needed to launch something clean, simple, and effective and we needed to launch quick to coordinate with a marketing campaign that was to go live.
We launched the site in 90 minutes.
We were tag-teaming what needed to get done and were working really fast. The process was pretty smooth. There was a bit of a learning curve getting started, but my experience with WordPress really helped out. Just knowing how things generally go together, how to use a site outline to get things put together, and knowing where to find images to use, the type of wording to use, etc. Plus there are some similarities with the admin portion of both Squarespace and WordPress.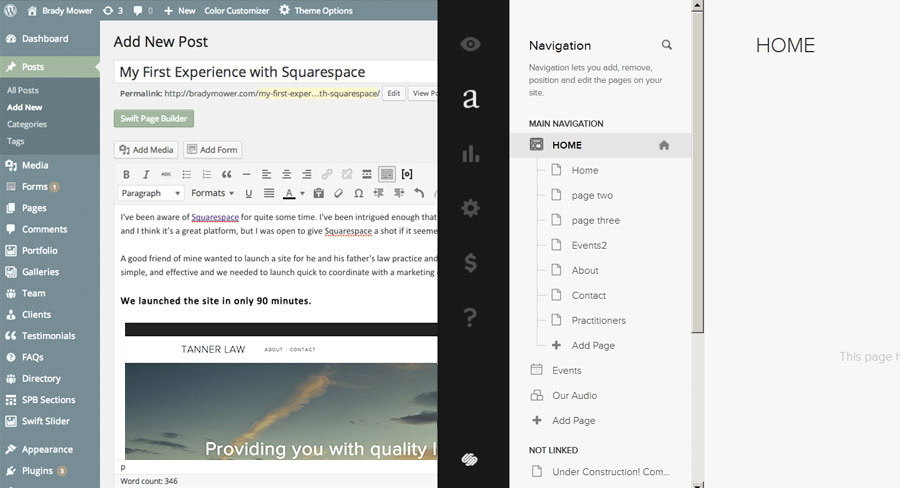 For the images, we used Unsplash. We needed some images that were high quality and didn't want to worry about copyright or purchasing the images, so Unsplash's "Free (do whatever you want) high-resolution photos" were perfect.
We went with Squarespace in part because it simplified the hosting process. We could have saved maybe $2/month on hosting by setting up our own, but I advised that not having to manage their own hosting and having things all in one place would be worth $2/month for them. Plus, though I am a big fan of WordPress, the WordPress admin has a higher learning curve than Squarespace which made a Squarespace site easier for them to manage going forward.
If they get to a point where they need a more robust CMS then we can move them over to WordPress, but I think for the next year or two at the very minimum, Squarespace will be the right platform for them.
Overall, I was happy with Squarespace! There are some limitations, sure, but it also has some great built-in features. For many projects, it's a great fit.